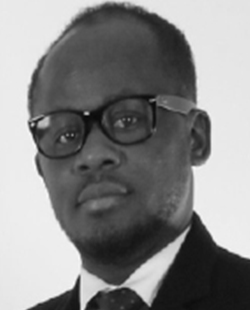 Messeh Leone
Recognised work by Her Majesty The Queen of England and former British Prime Minister – Rt. Hon. Tony Blair.
Messeh Leone is an associate in the International Development, Foreign Investment and Diaspora Group for Sierra Leone based in London. Messeh leads the team in Energy, Infrastructure, and Project and Asset Finance, acting for international corporations, banks and investors across all sectors, as well as for lenders, sponsors and borrowers in project finance transactions, reserve-based lendings and corporate and acquisition financings covering a wide range of sectors such as agriculture, health care and pharmaceuticals, energy, natural resources, mining, infrastructure, real estate, media and telecoms.
Messeh came to Malakai Chambers after a successful 12-year career in the public charitable sectors as a development consultant for numerous international organisations, including for the European Union and for United Nations agencies, and has worked for the Commonwealth Secretariat in London as programme coordinator, legal adviser and arbitrator. He has travelled to a number of countries, contributing to the planning and implementation of large scale projects in 53 countries, including in Africa, Asia, Europe, the Pacific, the Caribbean, and the Americas. Messeh was the recipient of the Commonwealth's International Award for Dynamic Leadership and Service. His work has also been recognised by Her Majesty The Queen of England and former British Prime Minister – Rt. Hon. Tony Blair.
Messeh excelled academically with high grades in all his qualifications and received numerous prizes from his Law School, while continuing in his professional work. He was appointed by his Inns of Court (Lincoln's Inn) as student representative/leader. He also won the University of Warwick Law School MSP scholarship for high achieving student which recommended him for mentorship by Old Square Chambers, in London. Messeh was the recipient of the Santander Bank UK and Warwick Business School Enterprise Fund for innovative business.
During his time in Sierra Leone, Messeh worked as legal researcher for the Lawyer's Centre for Legal Assistance (LawCLA) where he was inspired by Sierra Leone's leading human rights lawyer Melron Nicol-Wilson (currently Ombudsman of the Republic of Sierra Leone). Messeh's interest in business is underpinned by his longstanding commitment to human rights and business. As a student in Sierra Leone, he was elected President of the Children's Forum Network/Children's Parliament – a child-led democratic organisation – and served as chair for children's inputs to the Truth and Reconciliation Commission and the Special Court for Sierra Leone.
Messeh's legal work focus on two defined fields related to the protection both of corporate interests and people under public private law. First, he has pursued the legal protection of businesses and investors, focusing in the Africa context, and second, he has defended the effective protection of individuals (human rights) in the business sector. Messeh is an active member of a respected business and human rights team which is regularly praised for its global influence and dedicated service, in particular for expertise on the development and implementation of the UN Guiding Principles on Business and Human Rights (UNGP). The team services both public and private sector clients from various industries, most notably the mining and energy sector, and is actively engaged with a broad spectrum of mandates, including risk assessment and management, due diligence and human rights litigation.
Messeh Leone is also a PR consultant and serves as the Managing Director of AYV media International.