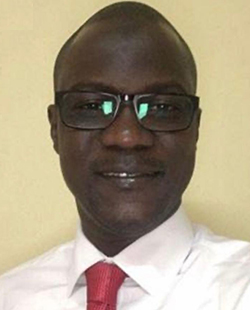 Alpha Muctarr Jalloh
Over 20 years of Experience
ALPHA MUCTARR JALLOH is a Barrister and Solicitor of the High Court of Sierra Leone, Senior Partner – B& J Partners (Barristers, Solicitors, Legal Consultants, Researchers and Advisers) and an Expert in oil and Gas Management. Mr. Jalloh holds a Master's Degree in Law (LL.M) specializing in Natural Resources Law and Policy from the university of Dundee in Scotland, a Master's Degree in International Oil and Gas Management, also from the University of Dundee; a Master's Degree in Law (LL.M) specializing in Law in Development from the University of Warwick in the United Kingdom; a Bachelor Degree in Law with Honours (LL.B (Hons)) from the University of Sierra Leone and a Barrister of Law Degree (BL) from the Sierra Leone Law School.
Since becoming a Lawyer in 1998 Mr. Jalloh has worked in several distinguished capacities including Member of the Board of Directors of the Sierra Leone Commercial Bank Limited (from 2008-present); Consultant Component Manager, Administration of Justice, Justice Sector Development Program, British Council, Freetown (2007-2009); Senior Partner, B&J Partners from December 2003-present and Junior Partner and Head of Litigation of Wright & Co, Solicitors in Freetown Sierra Leone from 1998-2003.
A dedicated and enthusiastic Lawyer with Experience in Private, Public as well as International Practice, Mr. Jalloh has proven expertise in Oil and Gas Law Contracting Oil and Gas Management, Environmental Law and General Commercial and Civil Legal Practice.
Mr. Jalloh has been consulting with Nicol-Wilson & Co (Malaika Chambers) since 2008.